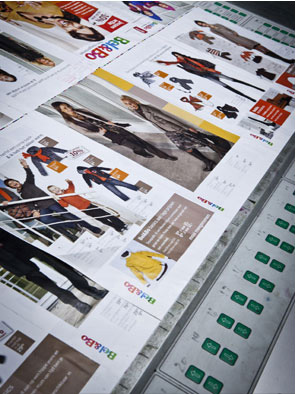 FAQ:
Is Dessain limited to A4-sizes or DIN-sizes?
Not at all. there is a whole range of folding possibilities and sizes. Consult your Dessain expert.
A4 may be the standard, but the printed sizes qwe can produce can be very flexible - between 12 cm and 24.5cm in width and 14.8 and 30cm in height. For example, press-glued booklets of 48 pages with a size of 19.4 x 12cm can be printed and finished inline, in one run, at a speed of 40,000 copies per hour.
Or 2, 4 or 8 pages A3 are equally well suited to Dessain's presses.
Ask for a quotation:
- web fed printing can be surprisingly advantageous
- even starting from 15,000 copies
- Ask for a quotation
- do you want help with your quotation? The expert's Checklist