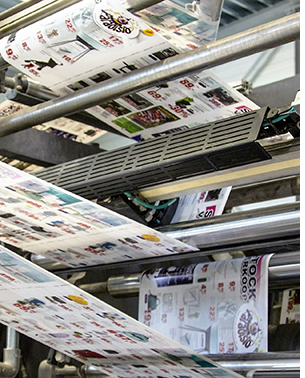 Products and technique
Paper: ask for help
Do you need an extra glossy paper for your magazine? Or did you have a matt finish in mind for your brochure? How do you compare paper weight, gloss, opacity, bulk? Paper choice has a large impact on how your product is perceived: our experts will be glad to help you make your choice from the hundreds of paper grades available to you. See our summary.
Folding options and finishing
Most of us know what a crossfold is but there are numerous possibilities to give your brochure that little extra. Size, paper type, paperweight, in-ine glueing or not: what are the possible combinations and which of your wishes aren't feasible? Ask our people to help you determine the most suitable alternatives.
Which machinery is used by Dessain?
Dessain prints on 16 page web presses of the newest series made by MAN. The German press builders MAN stand for top quality and reliability. Their machines are referred to as the Mercedes Benz of the printing trade and are equipped with the most recent technology to produce the best possible result.